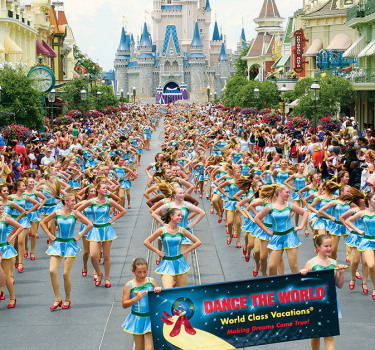 July 1st, 2019
Dance the World 2019 so far…
We are currently having a blast at Dance The World 2019! Performers from around the world joined us at the Walt Disney World Resort! Here is everything that has been happening so far:
Rehearsals
Performers from around the world came together for the first time and performed the parade routine as one group!
Emma Slater and Sasha Farber
Emma Slater and Sasha Farber from Dancing with the Stars on ABC joined us for celebrity week. Emma and Sasha lead the warmups before the start of parade rehearsals! Performers also learned a special cha-cha combination from the Dancing with the Stars pros during their masterclass workshop. Emma and Sasha celebrated with performers at the gala and blew us away with a stellar performance!
Parades
Each performer became an honorary Disney cast member for the day! Performers danced their way through the Magic Kingdom or inside of Epcot!
Stage Shows
Dance studios were able to perform their own choreography during stage shows! Family and friends watched performers shine on the stage at World ShowPlace in Epcot!
Gala
To celebrate, performers, family, and friends gathered and danced the night away. Those who attended were treated to a buffet-style dinner, delicious desserts, and were even joined by Mickey and Friends!
Thank you, studio directors, performers, friends, and family members! Without you, this event wouldn't be possible! We can't wait to continue the fun and making memories as Dance The World 2019 continues!