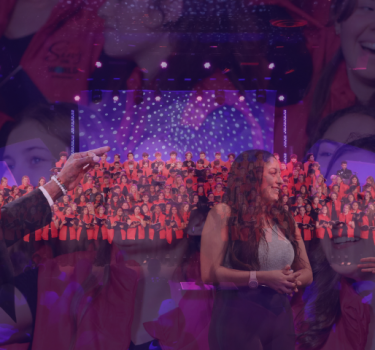 March 16th, 2023
Sing The World is BACK – See You in April 2024
Our multicultural musical journey event Sing The World is back! We are excited to set the stage once again for 2024. Our 2022 Sing The World event brought choirs from all over the world together to celebrate cultural unity through the music of Disney's songbook. We are looking forward to creating more of these special memories in 2024.
Sing The World 2024 will take place from April 27th to April 30th at the Walt Disney World Resort®. Sing The World encompasses a massed choir performance with a celebrity narrator & conductor (our 2022 celebrity narrator was Jordan Fisher and our celebrity conductor was Dr. Jeffery Redding) – stay tuned for our 2024 celebrity announcement. This event also includes a celebrity master class workshop, optional Disney Imagination Campus performance, and a performance after party with a VIP fireworks viewing & dessert party. This once-in-a-lifetime experience gives students the chance to learn from celebrities and industry professionals while also creating memories with their friends/families at the most magical place on earth.
Check out the video below to see what Jordan Fisher (2022 Sing The World host), choir teachers, and Sing The World participants had to say about our 2022 event.
Click here to learn more and be the first to receive our package pricing!