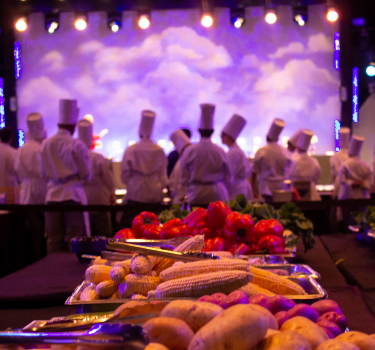 April 10th, 2019
What to Know: Cook Around The World
Cook Around the World is just around the corner! As you're getting ready for your trip to Florida consider these tips so you can "sizzle your way to success."
Remember to bring:
Cook Around The World Lanyard and All Access Pass
Park Hopper Pass (take a photo of the back and write your name on the pass)
Comfortable attire for the Florida climate – check the weather before packing!
Hands-On Culinary Improv Attire – T-shirt, Long pants, and closed toe shoes
Reusable water bottle for the parks
Hotel Voucher (1 per room)
Disney's Magical Express Information – If applicable
Itinerary and General Instructions (Take a photo of these documents)
Team Menu for the Culinary Improv
Culinary Improv Reminders:
Outside materials (utensils, ingredients, etc) are not permitted
All schools will receive ingredients and utensils on-site
Students and chaperones will receive chef coat on-site
Hair must be pulled back, jewelry is not permitted
Beard nets will be available on-site
While preparing for Cook Around The World keep in mind:
Florida climate is hot and humid
You are representing your school (be courteous and respectful)
Be on time
Review all documents before you leave
Take a moment to network with other schools from across the country!
Tag us on Instagram, Facebook, and Twitter! #cookaroundtheworld @cookatwdw
Lastly, remember to have fun! We are looking forward to meeting all during our Cook Around The World event at Walt Disney World® Resort!